Future learning
Barcelona Data Institute Summer School
Spend your summer developing your Data Skills. No matter what is your background, or what is your professional goal, data will be key to stand you out from others.
Barcelona Data Institute is an accelerator and connector for professional careers in the field of Data created by specialists in the sector. Its main objective is to strengthen the business environment with qualified professionals to meet the high demand for positions both nationally and internationally. It provides candidates with a unique network in both technological and multinational companies that understand data as a fundamental tool in their decision-making and value creation for their clients.
The best Data summer programme in the world
BDI summer programmes are the unique option for you to develop your data skills.

All our programmes have been created with a successful teaching model to deliver you the full cycle of the data world.

At the end of each course, you will get the specific knowledge needed to develop the business of any organisation.
Study in one of the world's most coolest cities
Barcelona, located by the mediterranean sea, is one of the trendiest cities in the world. It is also known for hosting the 1992 Summer Olympics as well as world-class conferences and expositions and many international sport tournaments.

Barcelona is a major cultural, economic, and financial centre in southwestern Europe as well as one of the top biotech hubs in Europe.

A thriving nightlife scene, a trendy artistic side and a feasible cost of living makes this city a popular choice for students, interns and young professionals ready to start something new.
Meet with students from all over the world
We welcome students from all over he world with different backgrounds. Networking is a key for us, because we want you to enjoy your time in Barcelona and take part of a new generation of professionals ready to add value to the companies and organisations around the planet.
At BDI we keep growing a unique new technology specialist community in Data Analyst by sharing knowledge, expertise and guide the students to their professional success.
BDI Summers courses

are designed to deliver high standards and they are

academically

rigorous. We suggest you to ensure that you meet the entry requirements specific to your chosen course before starting your application

Apply know for 2020 Barcelona Data Institute Summer School:
Minumum Requirements and prerequisites
In order to apply for the Summer School, you must provide the following:
- University enrolments:
Proof of an offer of a place at university or a transcript showing you are currently attending/have previously attended university or a university transcript showing you meet course specific prerequisites
- Tech Savvy*:
Feel comfortable with basic concepts of technology.
- You are also required to provide evidence of meeting our language requirements (if you are a non-native English speaker).

* C
oding skills not required
English language requirements
All students must meet one of the following requirements:

CertificateRequired Score:


107 or above (including 25 in each component)
7.0 or above (including 7 in all components)
With grade B or better or 185 points overall and a minimum of 185 points in each individual component.
With grade C or better or 185 points overall and a minimum of 185 points in each individual component.
Applicants with an alternative qualification should contact the Summer School Office for advice
Social Programme and student life



At BDI we believe that going abroad to study a course it is an unforgetable experience, but at the same time it can be challenging. For this reason, we want to make your stay in Barcelona the best experience you have ever had while you are studying at our summer school.

We arrange different kind of activities so you can make new friends, build important networks and discover Barcelona.
BDI Barcelona activities


*All the activities are paid ticketed and they are subject to availability.
Welcome Beach Party

Football Club Barcelona Visit

Tapas tour in the city centre

Park Güell tour

Barcelona sailing tour

Costa Brava hiking, kayaking, and snorkeling experience (Full Day trip)

Bike Barcelona Tour



Beach Volleyball BDI Championship

Fees and payments

Students will be eligible for a discount in case more than one course is booked at the same time. Please, see below the rate details.


One Session
1,900€ /Student Rate*
2,900€ /Standard Rate
Two sessions
2,900€ /Student Rate*
3,500€ /Standard Rate
Three sessions
3,900€ /Student Rate*
4,900€ /Standard Rate
* Student Rate applies to all full-time students who are currently enrolled at a University or College anywhere in the world.
Discounts
A 15% reduction in fees is available to the following groups:
- Bdata Institute alumni
- Bdata Institute partners
- EADA Business School Alumni
- Oxford Students
How to Pay
A 100€ reservation fee must be paid using a debit/credit card in order to make the reservation of your tuition.

Cancellation Period
As
y
ou have agreed and entered into the contract with us by means of distance communication, you may terminate the contract and withdraw from the programme within 14 calendar days from the date on which you accepted the offer of a place.
You must notify us by writing to [email protected]. We will issue a refund for tuition fees which you have paid to us within sixty (60) calendar days of such cancella
tion.

Refund Policy
We operate the following policy on refunds after the Cancellation Period:
In order to withdraw from the programme, students must inform the Summer School Office in writing to [email protected] and receive written acknowledgement of their withdrawal.
Tuition fees will then be refunded in accordance with the terms set out below. The application fee is non-refundable.
Date of Withdrawal - Tuition Fee Refund (%)
At least 30 calendar days before Commencement Date - 100% refund
14-29 calendar days before Commencement Date - 50% refund
Less than 14 calendar days before Commencement Date - No refu
nd
The Commencement Date refers to the date on which we begin to run events, teaching or otherwise, for your programme.

All refunds are made in Euro (€). BDI cannot refund any shortfalls due to exchange rate fluctuations, or offer compensation for any bank or other charges incurred
Refunds for online payments will be made onto the credit/debit card used to make the payment.
Refunds requested after 1 June will be processed after the full Summer School programme has finished in August.
BDI Accommodation Partners


Barcelona is one of the trendiest cities in the world and it is the best option for all kind of visitors as it has a vast variety of tourist attractions and it offers lots of experiences and activities for all audiences. The central locations of many hostels put you in walking distance to attractions like La Sagrada Familia, Park Güell and Casa Batlló. The best hostels in Barcelona for travellers combine social vibes and relaxation, so you can find the perfect balance during your stay.

We would like to suggest you a few options of student residence. Please take note, that the following accommodations are subject to availability and we recommend you to book it as soon as you can in order to secure your stay. BDI students have speacial rates.
ANGLUS is a residence that houses 34 students in a modernist building. The residence is located in a very central and touristic area of Barcelona.
ANGLUS is well connected to the rest of the city via public transport and we offer full board accommodation with room service and laundry service.

TSH Campus Barcelona Poble Sec is a centrally located student residence in Barcelona, in the fashionable district of Poble Sec, popular for its thriving culture and arts scene (and some pretty spectacular tapas, too!). You will be staying 15 minutes from Plaza España, Montjuic Park and La Rambla



Barcelona Residences is completely renewed to become a residence of students of last generation without renouncing our family character. Only 12 places to be able to give you the most personal treatment and all the services included.Inspiring common spaces and rooms equipped to the detail, in an iconic localization in Barcelona.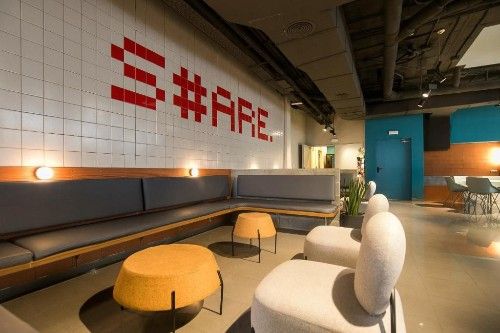 The apartments at Residencia Onix feature bright colours and simple décor. Each one has a TV and a bathroom, and the kitchenettes come with a hob and microwave. You can walk to Ciutadella Park in 8 minutes from Residencia Onix, and Barceloneta Beach is a 20-minute walk away. Located 5 minutes' walk away, Arc de Triomf Metro Station is just 2 stops from Plaza Catalunya and the Ramblas.



Located in the prestigious neighbourhood of Sarrià-Sant Gervasi, this student residence has been
fully renovated. Barcelona Diagonal Residence Hall is one of the most modern and complete student accommodations in the city. All rooms are fully refurbished, exterior, with en-suite, climate control, WiFi, etc.
You can find 7 more residence options in Barcelona of the same chain.





Re3Torres student residence is located in the prestigious Sarrià neighbourhood and offers you both the peace and quiet you need to focus on your studies and a dynamic and creative environment: a perfect place for sharing this special time of your life with other students.
Barcelona Data Institute offers three courses on the topics that are of the great interest for every future professional.
Whether
your field of study is: business, economics, engineering, social or natural science, knowing how to use the data will give you a competitive advantage. You may enroll on each course independently or combine them
together. Don't worry if you are not a tech expert, our teachers will make sure your learning experience will be entertaining and easy to follow.
Course 1: Introduction to Data Analytics
Did you know that the ability to analyze the data become one of the most valuable skill in recent years? In the near future, the companies will require candidates knowing how to work with data, just as it is today with e-mail or the office software. Data Analytics is a process which transforms data into information useful to understand businesses, social
behaviours
and human
interactions
. The more data, the better informed
decisions, but also more need for analytics. In this course you will:
Learn how the data

impacts

our decision making and how we can turn it into our advantage

Gain the

essential

skills data analytics that will impress your future employers

Practice working with big volumes of data and interact with real data professionals
Course 2: Machine Learning with Python
Machine Learning is everywhere. Probably, you use it
hundreds
of times every day without even realize. Every time your mobile phone detects your face while making a selfie or a music service
recommends
you songs that you may like, these are examples of machine
learning
. This technology becomes so popular that literally change our
lives
. Studying Machine Learning is fascinating. Whether you want to deep dive or just understand the basic concepts, knowing what Machine Learning can do and how it works will certainly widen your horizons. In this course you will:
Understand what the Machine Learning

technology

is and why it is so important these days

Review most common applications of Machine Learning, find out their potential and limitations
Work on your own Machine Learning project that will showcase in the field of your interest
Course 3: Introduction to Artificial Intelligence
Building smart machines capable of performing tasks that typically require human intelligence used to be a domain of science-fiction movies. Today self driving cars, smart assistants, or robo-advisors became our reality. In the future the machines will perform tasks that used to be a human job, so knowing what exactly Artificial Intelligence means and how crucial it can be will certainly make you stand out. In this course you will:
Learn fundamentals of how the Artificial Intelligence is being developed
Study a practical usage of Artificial Intelligence along with the benefits and threats it brings
Get inspired by business and social impacts of this technology in daily our lives
Each of the courses is offered in several sessions. A session is a three weeks
period in which you attend the course
. You can apply for the session that suits you best and choose the course of your interest. You may decide to attend multiple courses in which case you should apply for more than one session. All the courses are
independent, so you can combine them without any predefined order.
Session One
(20th June - 8th July)
Course 1: Introduction to Data Analytics

(fully booked)
Session Two
(11th July - 29th July)
Course 1: Introduction to Data Analytics & Machine Learning with Python

Course 2: Introduction to Artificial Intelligence

(fully booked)
Session Three
(2nd August - 20th August)
Course 1: Introduction to Data Analytics

(fully booked)



FAQS
We are here to answer! If you don't see your question here, don't hesitate to let us know on our Contact us page
Are the BDI courses the correct option for my professional career?
The answer is Yes!. BDI Summer School courses have been created to teach all kind of professionals with different backgrounds with the need to get skills in Data. At the present time, it is a must for all the companies, organisations and departments to analyse precisely all the data we are getting every day. If we don't have the control of our data, we are not able to take the right decisions to develop our businesses.
Whether you are university student or you have finished your degree and you are interested to grow professionally this is the right course for you. You will get skills in Data to get an international competitive CV.
Is it possible to get more than one course per session?
No, BDI courses are intensive and full-time, so it is only possible to attend one course. In case you are interested in taking another course, you can apply in another session.
No, coding skills are not required. You have to be an analytical persona and feel comfortable with basic concepts of technology.
No, coding skills are not required. You have to be an analytical persona and feel comfortable with basic concepts of technology.
What is the application deadline?
At BDI we work on a first-come, first-served basis. This means that we have no specific deadlines and you can apply for any course up until the point it is filled. Please, take note that we receive applications on a daily basis, therefore in order to avoid disappointment we suggest that students apply as early as possible.
Which documentation is required to apply?
A proof of an offer of a place at university or a transcript showing you are currently attending/have previously attended university or a university transcript showing you meet course specific prerequisites.
You are also required to provide evidence of meeting our language requirements (if you are a non-native English speaker).
Visa to attend the BDI Summer School
We suggest all the students who want to attend the BDI summer school to contact their embassy in order to get information about the visa requirements in Spain.
Please, visit our Accommodation page where you will find a choice of student residences you may be interested. We have made an agreement so as a BDI student you can get speacial rates. We suggest you to book your room as soon as you can, so you will make sure you have the residence you are interested.

We appreciate your interest in BDI Summer School. Please, don't hesitate to contact us for any query you may have. Thank you.



Apply to BDI Summer School
¿Quieres sabes más?
Necesito hablar con un asesor para conocer todos los detalles del Postgrado en Data Analytics.
30% discount offer!
Click the button to make this offer yours! Limited-time only!
30% OFF!
Huge offer is waiting for you!
Click the button to make this offer yours! Limited-time only!
Created with